If you'd like to receive updates about the
Winter Solabration, please

Storysmith® Susan Marie Frontczak brings literature to life,
creates stories from thin air, and hones personal experience into tales worth telling again and again.  Her stories and living history presentations have taken her to schools, libraries, corporations, and theaters across 42 of the United States as well as Europe.  Susan's original stories have been heard on Colorado Public Radio (Morning Edition), at the Colorado Music Festival Young People's Concert, through Story Gleaner productions, and on her CD "The Three Fishes & Other Stories."  Susan Marie's motto is: "Give me a place to stand, and I will take you somewhere else."  More at www.storysmith.org.
The Maroon Bells Morris Dancers
Maroon Bells is the oldest of the morris teams now dancing in Colorado.  We've been kicking up our heels, and jingling a few bells, since 1982 – long enough for some of our offspring to grow up and join the team.  Our dancers come from towns along the Front Range and many walks of life.  All are welcome to join us, particularly for our new dancers class each fall.  We perform locally, at festivals and for special events, as well as a few more distant spots, e.g., Red Lodge, MT, the U.S. Midwest, and, every decade or so, in England.  If you'd like to join us, please contact Squire Rowan Sauer for more information, or visit us on the web at: maroonbellsmorris.org
The Solstice Sword Dancers are five members of the Bennett School of Irish Dance: Bill and Molly Bennett, Bill MacAllister, Ken Horwedge, and Beckee Laurie. As exciting as Irish dancing can be, the intricate interlacings of rapper swords adds a whole new dimension to their dancing experience. Their practices have become one of the premier spectator events at the Friendship Irish Dance Center, since nobody can believe that anyone could extricate themselves from the complex tangles of steel that are the heart of rapper sword figures. They always do, however, like so many armed Houdinis, ready to go into the next impossible tangle and amaze everyone by emerging unscathed. See them on YouTube.
With Deb Carstensen on fiddle. Specializ­ing in Celtic music, Deb is known throughout the Colorado Front Range for her passionate, fiery fiddling. She played classical violin up until college and, after taking a long break from the instrument, took it up as a "fiddle" and has been playing and performing folk music ever since. She has studied Irish and Scottish intensively and is expert in playing both for dancing and performance. More about Deb at debcarstensen.com
Breathless in Berthoud (Border Morris)
For at least five hundred years, teams of English men and women have dressed in ribbons and bells, waved handkerchiefs and clashed sticks together, and, to the music of pipe and tabor, fiddle, concertina, or accordion, danced the Morris. The Morris is a performance, not a social dance. It appears to be very ancient, but historical evidence before the Middle Ages is scarce. The Morris is traditional, dynamic, mysterious, and a little absurd. People dance the Morris because they love it.
Border Morris dancing is a style of Morris dancing originat­ing in the area of the English border with Wales. The dances are boisterous and energetic; primarily stick dances, emphasizing a thrilling performance rather than subtlety or refinement. The dancers often dance in blackface, and the dancers' "kit" is often decorated with many ribbons or strips of material, known as rags. Besides the traditional dances, collected early in the twentieth century, Border teams dance many new dances, invented in the Border counties and in the U.S.A.


Featured on the Tonight Show with Jay Leno, Breathless in Berthoud is the only Border Morris Side in Colorado. We would enjoy astonishing you, and would like to take this opportunity to inform you that we are always welcoming newcomers to experience this ancient and mysterious dance form. We practice on Thursday nights at the Barn Owl Dance Studio in Berthoud.


For more information, contact Robin Smith or visit our website.
Gaitani is a bulgarian dance group located in Denver Colorado under the direction of Stoyan Getsov.  Stoyan graduated from the Bulgarian National School of Dance Art and the Bulgarian National Institute of Choreography. 


For more information, contact Stoyan Getsov.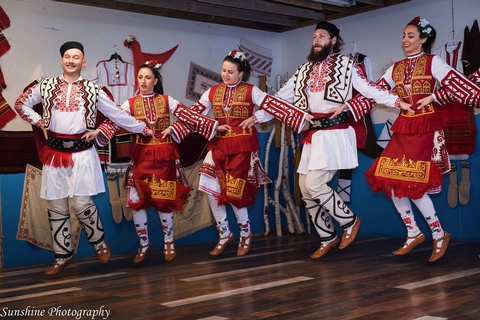 Performers for this year's Grand March are members of the Northern Colorado Caledonia Pipe Band.  The NCCPB is a successful competition band with members from Commerce City to Greeley to Ft. Collins to Boulder and everwhere in between.
Visit the band's website for more information.  Also on
Toni Baca is a mover, shaker and community coordinator!  Born and raised in Lakewood, Colorado, even with a love for adventure and travel, she will always call Colorado home.  In 2012, Toni was introduced to Circus Arts in Costa Rica.  Through practicing and teaching circus arts to an underserved community, she ignited a lifelong passion that she strives to share with others.  After graduating from CU Denver with a B.A. in Spanish and Business, Toni is now a Spanish Interpreter and Translator, an aerialist, a juggler and an overall movement enthusiast.
She is the Director of the social circus program for Rainbow Militia, an unconventional Denver-based circus troupe, and is passionate about giving back to her community.  Toni graduated from MOTH Contemporary Circus Center's Professional Training Program and is a Born To Fly Certified Aerial Instructor.  She is a firm believer that a combination of movement, laughter, and freedom of expression are the best forms of healing.  You can catch her teaching aerial sling at Tease Studio Denver, teaching community workshops in English and Spanish, or bouncing around Colorado connecting with her community.
Abbie Lawrence, Balloons & Face Painting
Abbie Lawrence is an award-winning artist and entertainer.  Following extensive training, Abbie was invited by the Armed Forces Professional Entertainment Office to perform in Italy, Spain, England, Scotland, Germany, Turkey and the Azores.  She founded Mime Time in 1982.
Abbie performs at private and public events for individuals and organizations.  She offers shows, workshops and classes in the Denver Metro area Libraries, and Schools.  She has performed at countless parties and events as a twister and face painter and has been performing at the Winter Solabration since 2011.
Chris Kermiet has been calling and teaching traditional American
community dances for over forty years and is recognized as one of the finest callers in the United States.  In 2000, he received the Heritage Award/2000 Artist Fellowship from the Colorado Council on the Arts for calling and teaching traditional American dance, as well as the Westword Best of Denver Award for Best Dance Caller.  In 2009 he was honored as a "Living Legend of Dance"  by the Carson-Brierly-Giffin Dance Library at the University of Denver.  His video interview can be viewed here.  During the last ten years, as well as being in demand as a caller and teacher of traditional dance, he has created choreographies for a number of performing groups and theater companies.
Chris grew up with traditional dance.  His father, Paul Kermiet, was one of Colorado's premier old time callers, and ran a summer dance camp on Lookout Mountain where Chris heard the best callers from around the country.  He learned from all of them, and it shows in his teaching and calling, his broad repertoire and familiarity with traditional dance, and the way he puts new dancers at ease.  He calls at numerous events across the Front Range, and currently leads the Denver English Dance.
Visit his web-site.
He has also been posting his poems on-line at poemofthemonth.us for the past five years.
The December 2018 poem-of-the-month was: "Christmas...and Kids in Cages"
The December 2019 poem-of-the-month is: "There used to be 12 Days of Christmas"
Tina Fields calls contra and other traditional American "barn" dances, with the goal of creating maximum joy.  She is known for her effervescent sparkle, great sense of timing, clear projection, singing style, patience with new dancers, collaborative way of working with bands, and comfortable humor.  Tina brings day job skills as a college professor to her dance teaching.  She is also a singer, myth-loving storyteller, and ceremonial facilitator.  She has been on staff for various dance camps as both contra caller and songleader.  More at Tina's website.

Tina has published an article chronicling some of her family elders' involvement with square dancing in the 1950's rural west.  Read it here:  http://www.cdss.org/programs/cdss-news-publications/cds-online/square-dance
I am not particularly drawn to difficult dances. My peak experience as a dance caller is to create a magical moment where the dancer, the movement, and the music are one. I suppose I have a reputation for choosing "flow-y" dances, and to attempt enough clarity of explanation that perhaps no walk-through is needed.
Set dancing of one sort or another has been part of my life since high school. In 1972, in suburban Baltimore, MD, I, along with some classmates joined a Western Square Dance club. By 1973 I had started calling dances. This activity continued and increased through my college years in Pennsylvania and in my subsequent move to the Boston area. By 1983 I was teaching a club square dance class every week, and calling at least two other dances per month.
In 1981, some of my square dancer friends invited me to the Concord (Massachusetts) Scout House contra dance. I wasn't an instant convert, but over the next few years my contra dance activity increased; I was certainly more drawn to the music of contra dance than that of Western Squares. Also in 1981 I began playing the hammered dulcimer. The Celtic and New England music I loved and learned to play went hand-in-hand with my interest in the dance. In 1985 I moved to Southern New Hampshire and found the contra dance community much more friendly than in Massachusetts, and began regularly attending the Nelson (NH) Monday night dance which was an open band - open caller format. An opportunity came in 1986 when a scheduled caller didn't show up at one of the more professional local dances. I filled in with what contras I could remember and a few made up on the spot; I was out of the closet. There was a considerable overlap of my square and contra dancing and calling career, but there was an inexorable shift - I did my last club dance gig in 1987 at the National Square Dance Convention.
Back in the early 1990s I was part of a 4-person New England band called "Storm in the Tea". Amongst us we had two callers, and typically split the calling and playing of each gig. We were drawn to what was at the time a rather untraditional style: instead of playing tune sets Celtic-style or fairly straight, we tried to modulate the energy through a set of tunes to create a definite mood.
I moved to Denver in 1995, and have found this - the land of some of my youth back in the 1960s - to be home. Since my move here, I have been primarily a dance caller rather than a musician up until recently. This too is slowly changing, as I have begun playing with "Southwind" for contra dances.
Having worn both hats - as a dance musician and a caller (sometimes at the same gig), I feel that forming the dance experience around the music is paramount. As a contra dance caller, I'm not particularly drawn to complexity. If you want that, do club square dancing.
Rodney Sauer, CL Morden, and Aeryk Parker are the Coffee People
Cieran (C) Morden grew up in northern California and started playing music as soon as the keys to the family piano were in reach.  Growing up in a folk music enthusiast family, C was raised on living room Irish sessions and pub gigs.  Before relocating to Colorado to study at the University of Denver's Lamont School of music, C was fortunate to be exposed to many kinds of music and enjoyed playing in orchestras, the Humboldt Music Academy Fiddlers, string quartets, state honor groups and several different bands throughout high school.
.
C moved to Denver in 2009 and earned a degree in violin performance four years later.  C has built up an impressive professional résumé, playing in a variety of orchestras, chamber ensembles, rock bands and folk music groups including the Denver Philharmonic Orchestra.  In 2014, C traveled to Ireland to study in workshops and play in sessions across the country.
Rodney Sauer has been playing piano and accordion for square and contra dances since the mid-1980's, almost exclusively along the Front Range of Colorado.  He has contributed powerful rhythmic accompaniment to such bands as Deb and the Pariahs, The Buffleheads, Falcon Flight, and Prairie Dog Picnic, as well as popular duets with fiddlers Eric Levine, Sandra Wong, and Elizabeth Wood.  He has also been the long-time accordionist for the Maroon Bells Morris Dancers. 
.
His interest in dance music led him to create the Mont Alto Ragtime and Tango Orchestra in 1989, which has developed into one of the world's pre-eminent silent film orchestras.  His most recent endeavor is the Coffee People!  (And who doesn't love Coffee!)  Visit his web-site at www.mont-alto.com.
Cieran and I played for years at the (now defunct) downtown Denver Irish bar, Katie Mullen's (among other places), cutting our folk music teeth the old fashioned way at a weekly bar gig.  I learned to play Irish folk music at the Colorado Springs session at Jack Quinn's, and was introduced to it backwards through Irish punk.
.
I looked up to Rodney for years as a local contra dance giant, before I finally got the honor to share a stage with him.  And now I'm a Coffee Person!  (And who doesn't love Coffee!)
.
Currently, I split my time between eclectic freelancing in Denver, and almost exclusively traditional jazz in New Orleans.